When you play slot machines online, there are some that are extremely fun to play because you win, and others are just fun. A Night in Paris is that game for me. The theme revolves around the Museum of Paris and millions of dollars worth of paintings.  Jacques, the art thief, is planning a heist, so it will be up to you to take him down. You will do this as the museum's security guard, and a little help from his beloved canine.
The 3D element to this game is hilarious, and it keeps me coming back time and time again. I can honestly say I haven't won a lot of money on this slot, and I've even lost $100 in one sitting, but it's an enjoyable game to play. I've heard some of my online gambling buddies have hit this big, so my financial experience is not one to be judged when it comes to playing this slot.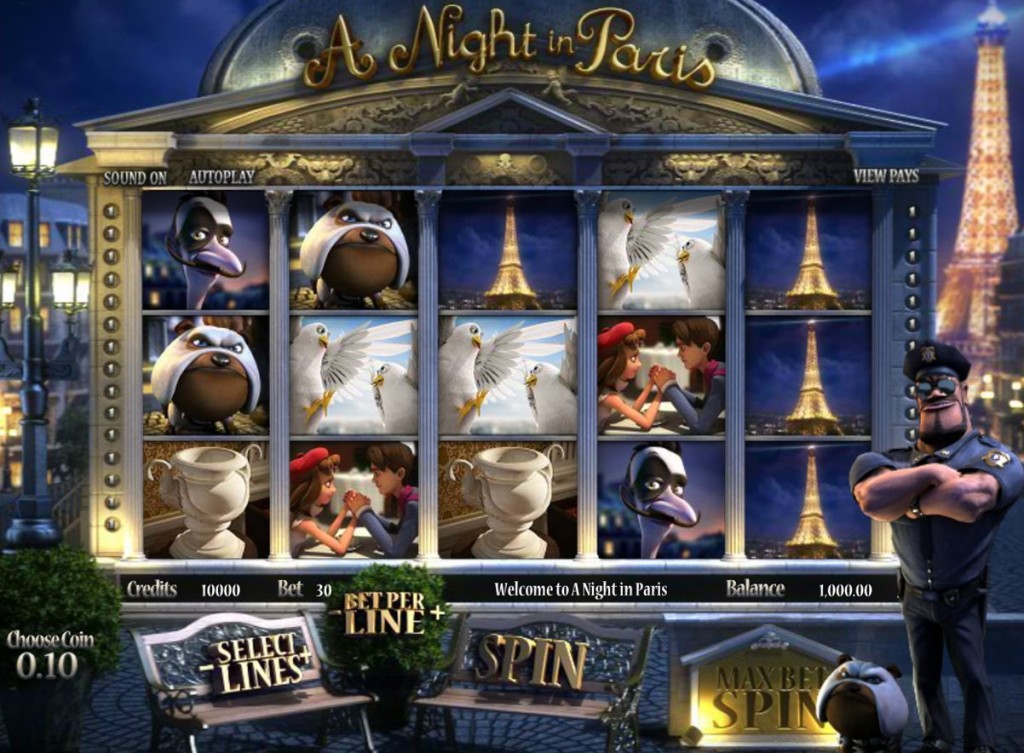 About the Game
This 5-reel, 30 line slot produces some interesting 3D clips involving Jacques, Jerome the security guard, and even his dog. During random spins, you will see these 3D characters do several different things around the game, which is why I love it! Yes, all 3D slots do the same thing, but these just seem to be a little more entertaining than others. Its unfortunate there is only so many they have available.
Okay, let's get to the action.
The Museum Bonus
One of the most important symbols you can find on the board is a painting symbol. In order to have a little fun with the museum bonus, you need 3 or more of these painting symbols to land on the screen. The more you have, the better the reward. Once you're in to the bonus round, it's all about finding Jacques and taking him down before he steals paintings from the museum.
Instant Coins
You can usually tell if a slot is a little loose within the first 50-100 spins. If you are spinning and enjoying more wins (even if they are really loses), it buys more time before the bonus. The a Night in Paris 3D slot can do this to buy relinquishing its Instant Coin Rewards bonus. This can be achieved on the first three reels with a guard, badge, and thief symbol to win the reward.
The Free Spin Chase
One of the most entertaining parts of this slot machine is this particular bonus. When the free spins are activated, Jerome will start chasing Jacques across the screen. During this time, you will start to receive free coins. The longer the chase lasts, the more coins you will receive, and the faster they increase, the easier it will be to tell whether or not it's going to be a big win.
Even if it's not a 3D slot you plan to put in your strategy rotation, take the time to play the free version. Either way it will leave you laughing.