It took nearly 30 years for the world to see a Triple Crown winner. What better way to celebrate this magnificent event then by playing the A Day at the Derby slot machine. This 5-reel slot might not feel like you're on the track, but you can definitely be a big winner and take first prize.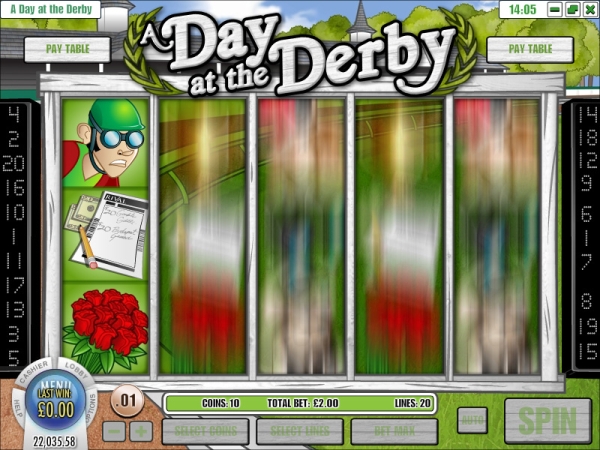 Brown Horse Wilds
The wilds on this game are a little different from most slot machines. Instead of having a wild symbol on all five reels, A Day at the Derby only offers them on the first three lines. Initially this might sound like a negative, but it's actually a positive. In order to win big on most slot machines, you have to have wilds on the first three lines. This slot machine offers more wilds in these areas to give you a better chance of winning.
Horse Race Bonus Round
Once you get three gray horses on the board, it's time to play the horse race bonus road. Here you will try and choose which horse will win the race. There are three options (one light brown, one gray, and one dark brown). Once you pick your winner, it's time to watch the race!
Now, this is more like a 100 yard dash, but if your horse wins, you could really make a lot of money. For instance, I just got done playing a bonus round on the nickel denomination (you choose what denomination you want to play) at the max bet ($10 per spin). My horse came in third place, which won me 2000 credits. If you times this from what I was betting, and I just won $100. Sixty spins later I hit the bonus again and my horse came in 2nd. This provided 5000 credits or $250 in winnings.
Additional Free Spins
Even though the gray horses provide you with the main bonus, A Day at the Derby also offers free additional spins. These can be won by receiving three to five blue jockey symbols. All wins are multiplied by 3 during this feature, and the amount of free spins you win are determined by the amount of blue jockeys that land on a play line (5 spins for 3 blue jockeys, 10 spins for 4, and 20 spins for 5).
The Reality of Your Winnings
Since slot machines are pre-determined based on random numbers, there is no guarantee you're going to win big. The trick is spending the first 100 spins on a lower denomination. If you haven't hit a bonus after the first 100, move up to the next bet line. If the next 100 doesn't provide a bonus, move up to the next bet line. However, if you do hit a bonus somewhere in between, don't be afraid to move back down to a lower bet line. This approach isn't full-proof, but if you do lose, the money lost won't be as difficult to swallow.