Slots aren't difficult to learn at all, but you have to make sure that you're going to check out all of your options. Are all slots equal? It would be hard to tell, since you have to play each and every slot you're interested in before you can really form an opinion on it. Some slots will make you a ton of money while you might have to work a little harder to make anything off other slots.
We like to help you make as much money as possible. Hey, we're all gamblers here! Below is a list of seven great slots you can play now, and stay out of that dreadful summer heat.
1. Octopays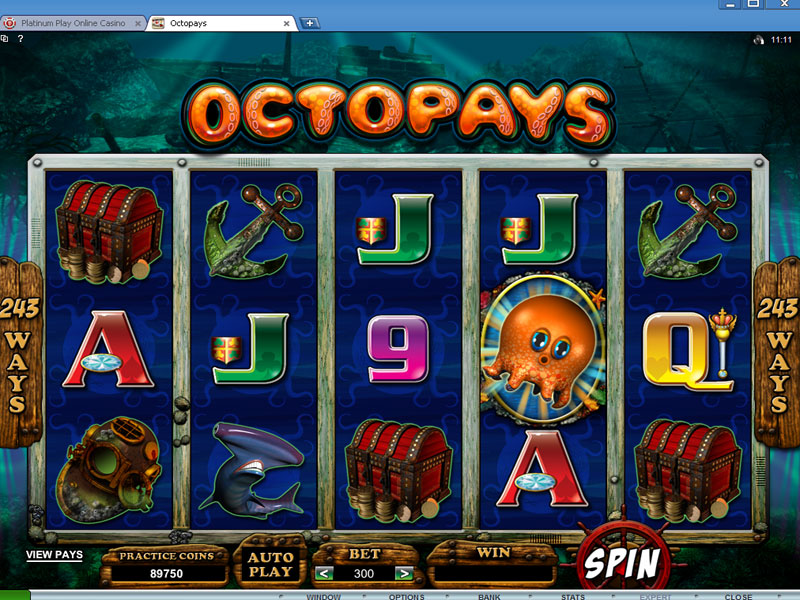 This is a 5 reel slot with 243 ways to win, always a very cool thing. But it doesn't stop there. This ocean-themed, octopus-happy slot features not just Wilds, but Bonus Wilds too. You also have free spins and multipliers. Keep a look out for the Baby Octo symbol, because it unlocks a cool Kraken Feature that leads to more free spins, cash prizes, and multipliers. Then there's the Moray Eel symbol which unlocks those Bonus Wilds you need for multiple multiplier bonuses. Very cool!
2. Jason and the Golden Fleece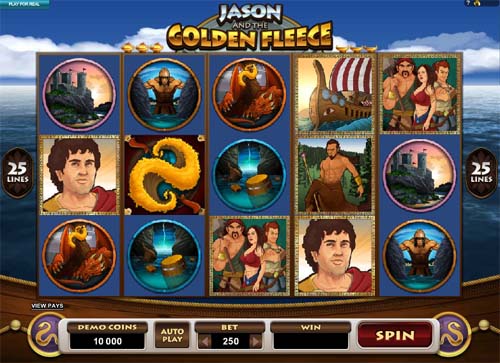 We love Greek themed slots, and this one is based off the famous Greek legend of Jason and the Golden Fleece. Jason goes out to seek the Golden Fleece, and succeeds in the story. Will you succeed in the quest on this slot? There's only one way to find out. This slot features wilds, scatters, free spins, bonus games, multipliers, and more. There are also multiple challenges. You get the shield bonus feature, which unlocks to reveal rewards after you hit six shields on the board. There's also a harpy bonus, where 17 harpies appear until a match is made. This can lead to a 2x multiplier. Then there's the Symplegades Shipwreck, which can give you up to two more bonus options! That's wild! Don't forget the Crete wheel, which can give a 15x multiplier if you're lucky. The Sirenum card leads to a Hi-Lo card game, where you get a single card and bet if the next one is going to be higher or lower. The Final Bonus is tough. You have to pick between 20 magic potions. You have to choose one that will make the fierce dragon go to sleep. If you pick the right potion, you complete the game and get the Golden Fleece. That's a lot of coins at stake here, so make sure that you play all the way to the end!
3. Galacticons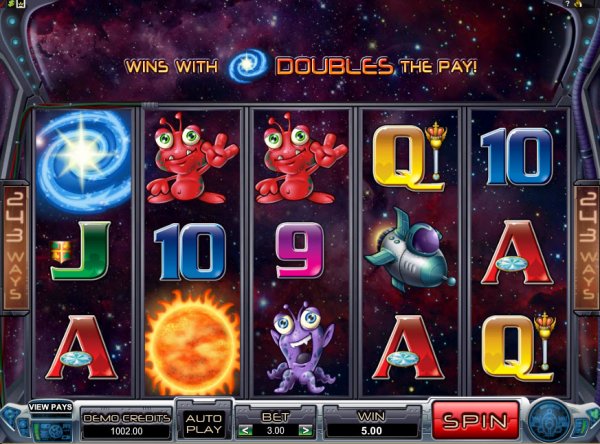 This is another 5 reel, 243 ways to win slot. We like those because you pretty are guaranteed to win something. With so many ways to win and so many bonus features, you're bound to come up lucky. This is indeed a nonprogressive slot though, so there's no big jackpot just waiting for you. This is an aliens and space theme, which is kind of rare. There are wilds, scatters, an extra wild symbol, free spins, and multipliers. If you get 3, 4, or 5 solar flare symbols, you can get 10, 15, or 20 spins respectively. There are also 5x multipliers available, so make sure that you look out for those. This is part of the Galacticons Big Bang Bonus.
The Black Hole bonus game is also one that you want to watch. In it, the Black Hole symbol becomes the extra Wild, giving you free spins. The Black Hole symbol keeps cycling and giving you random prizes, which include free spin. If you trigger this once, you can look forward to more money coming your way! We loved playing this slot, and would do so again in a heartbeat.
4. Bridezilla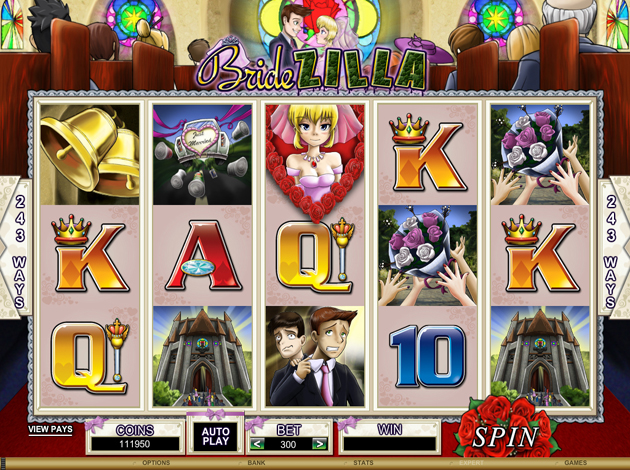 Every now in then, a slot theme takes a bit of a playful and humorous take on things. Instead of the beautiful, blushing bride, you get…Bridezilla! She's a green monster that will do anything to get her way! This 5 reel, 243 ways to win slot game. Wilds and scatters feature prominently in this game. If you get three scatters, you unlock the Bridezilla feature. This gives you ten free spins. If you get four scatters, then you get 15 free spins. Five scatters? You get a whopping twenty free spins. That's incredible! Remember that every single free spin means that you don't have to dig into your bankroll. If you reveal a bouquet symbol, you get a random prize. Just married is the same way. The nervous groom leads to a free spin, and the church symbol gives you a +1 wild multiplier. Overall, this is a playful slot that can really deliver you some cash.
5. Twisted Circus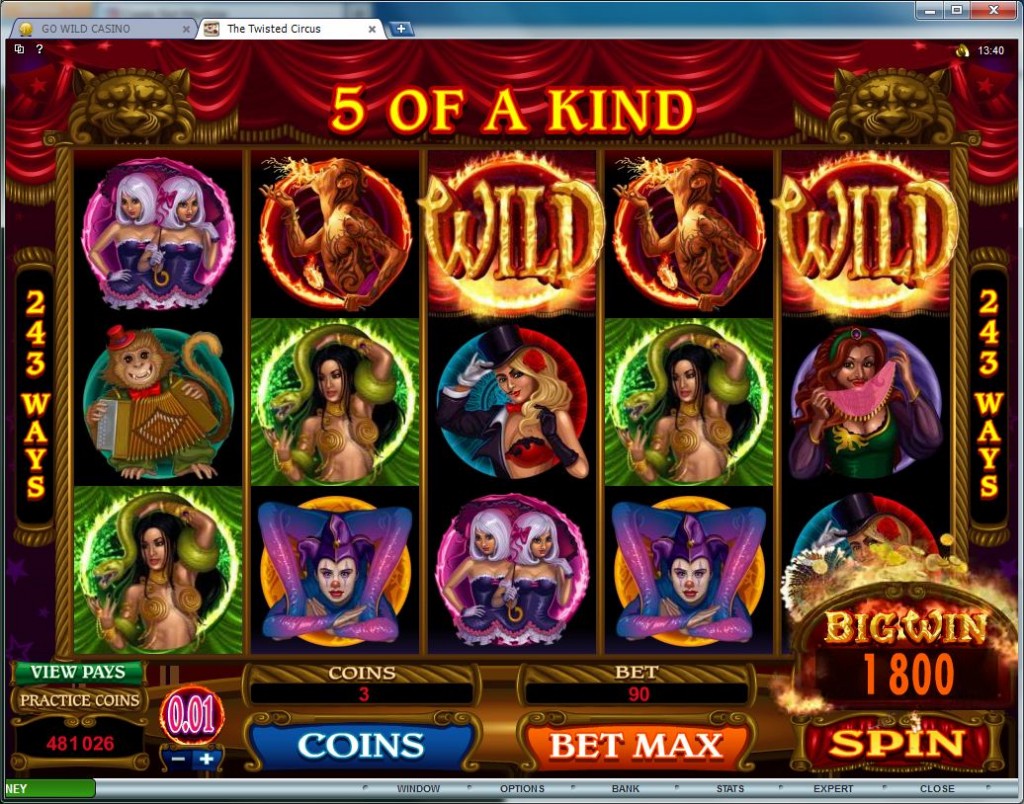 This is a pretty new slot, so not a lot of people have played this one yet. It's a circus them with a bit of a twist. You have full sound, great graphics, and tons of features. Pay close attention to the Ring Master , because three RM's lead to the circus tent. That's the start of pretty big money. Four hidden wilds replace all other signs on the board, which is a good thing. Three, four, or five scatters mean that you get free spins. If you hit a feature, your win gets multiplied three times. Bonus scatter will lead to a match bonus game that puts even more cash in your win box. Great game!
6. Battlestar Galactica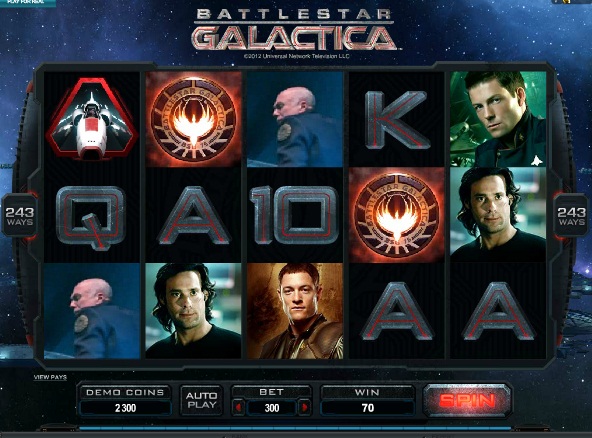 We had to include this slot game, because you get to experience such good graphics and the sound is killer. But it's the features that'll keep you playing this game. This is a 5 reel, 243 ways to win game with plenty of wilds, scatters, free spins, multipliers, side games, and bonuses. What's cool with this is that you have ranking achievements in the game. You start as a Civilian and move up to an Admiral. You unlock additional content with each rank. Can you make it to the end?
There's also the Ion Storm Wild, which triggers 10 free spins, three scatters, and a 3x multiplier. There's also the RUN, which is a brand new feature. If you trigger the FTL symbol on the middle reel, the Royal Symbol jumps off screen to improve all of your awards.
Then there's the FIGHT side of things, where symbols go Wild at random. Cyclons and Colonids appear to battle on the reels. And Wild symbols can split and move around! If you get three or more scatter symbols on the board, you get five free spins. This is something that you can trigger over and over, of course.
7. Break Away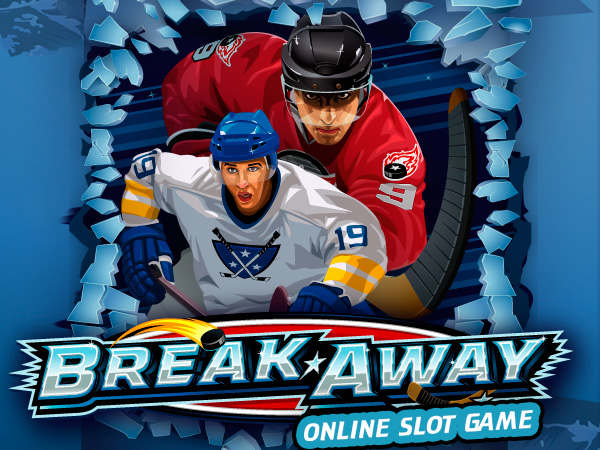 Here's something cool: a hockey-themed slot! You don't see that often. What makes it sweeter is that this is a 5 reel, 243 ways to win slot. There are scatters, Rolling Reels, Smashing Wilds, Stacked Wilds, Multipliers, and plenty of free spins!
The Rolling Reels are neat, because you get multiple free spins and a 10x multiplier. The stacked wilds mean that over 40 symbols can go wild at once, giving you a ton of money. The smashing wilds can turn a whole reel wild at one time. This is a very fast paced game with a lot of action, so don't miss it!
There's always a bit of disappointment around here, because we just don't have a lot of time to cover every single slot in existence. But as we find some good ones, we'll point them out to you. Fair enough, right? You get the best slots around and we get to tell you all about them! 🙂 Remember, you can't win if you don't play!