Marvel is well known in the comic book field for turning out some high quality stories. But not all of us like to take in our comics by reading them. Some of us would like to actually watch the comic come to life on the silver screen. There's nothing wrong with checking out a few action movies, and Marvel has a full lineup waiting for you.
But while you're waiting for the movies to actually come out in theatres, you can play for real money online. Many casinos have these fully licensed games available for play, making it convenient to sit at home and win some good money. Multiple features join forces within the game to put more coins in your pocket, and that's something that we just can't find the heart to complain about.
Below is a list of 5 great slots to check out. We hope that you'll play some and see how fun they are. Depending on where you play, you may qualify for free credits. As casino promotions are always changing faster than we can publish information, it's best to check the casino's website directly for current promotions and their corresponding codes.
1. Iron Man 3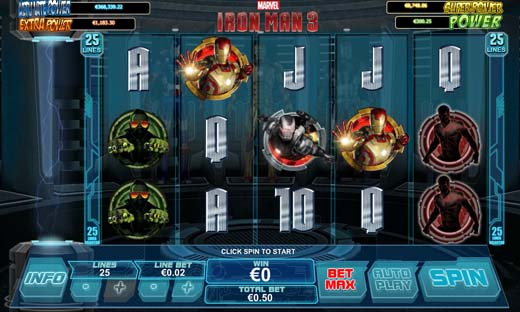 This is a five reel, twenty-five payline slot game that is absolutely fantastic. The graphics are top notch and catch the eye right away. If you're a big fan of the comics or the movies, you won't be disappointed with the features that are waiting for you in iron Man 3.
You have three different free game modes. You can choose Iron Man Patriot, Iron Man Mark 42, or War Machine. If you choose Iron Man Patriot, you get 15 free games, with a dynamic multiplier that keeps going up if you can get 3 Iron Man Patriot symbols to appear on the reels. If you go with Iron Man Mark 42, you get 10 free games but you get freezing wilds. If you go with War Machine, you get 8 free games. There are plenty of choices here, and the full sound experience isn't bad either.
2. The Incredible Hulk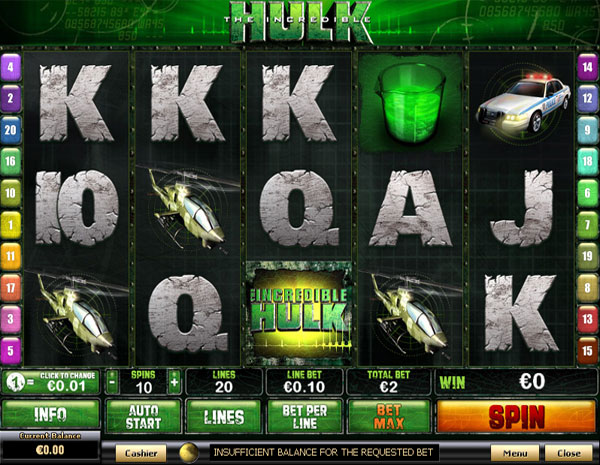 This is a five reel, twenty-five payline slot that has plenty of features to love. You start up the game and there's a fun intro scene with the Hulk jumping off a high ledge and crashing down on his enemies. Whoa!
The graphics are top notch, which is what you can expect from most of the Playtech video slot games out there. The Hulk symbol becomes the wild card of the game, giving you chances to turn spins into big prizes. Hulk can break in through the back of the reels to make the entire reel wild. There's a bonus round where you get to be Hulk and smash police cars and even go after helicopters. There's a multiplier attached to all of the winnings of the bonus game. Definitely one to check out.
3. Fantastic Four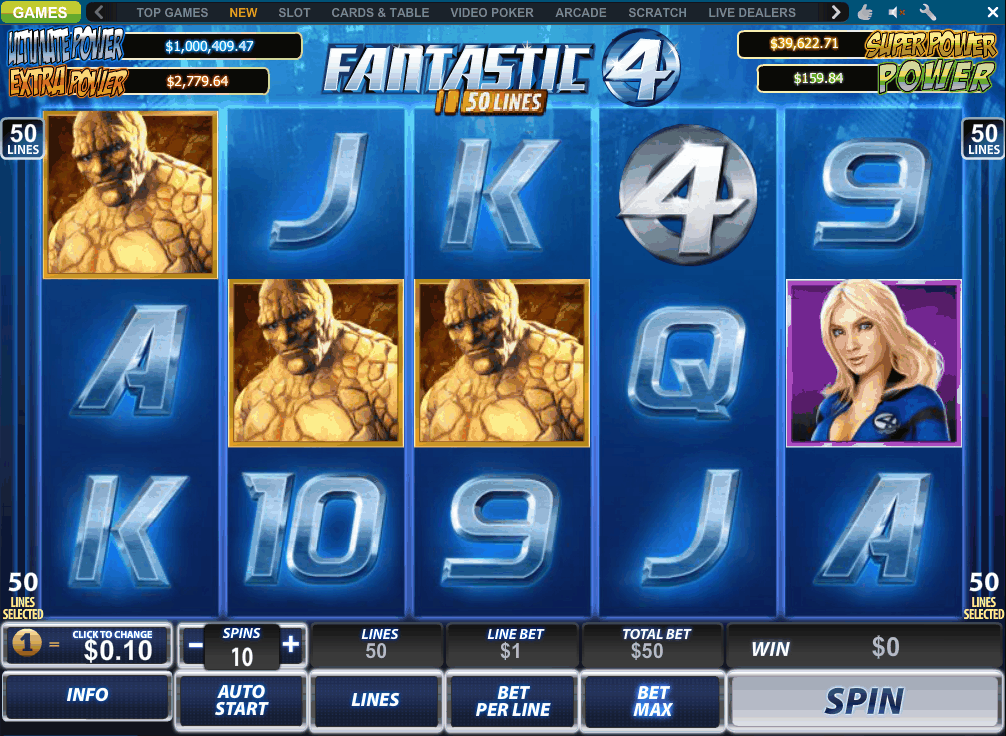 Another Marvel classic! Just about everyone knows the Fantastic Four on sight, for good reason. It's one of the most popular comic book series from marvel, and there are plenty of movies featuring these superheroes.
In this game you have twenty paylines and five reels, giving you multiple chances to win. You can alter how many lines you play with, but the biggest prizes will be for using all twenty lines. There are sticky wilds and expanding wilds, giving you two different ways to get high scores. Scatters help you pull in more profits on this slot as well. The full sound experience is present here, just as it is with the other Marvel slot games. Check it out!
4. Elektra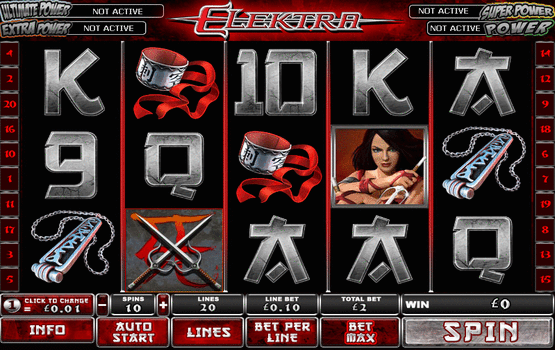 Dreaming of a female superhero that kicks butt? Look no further than Elektra, a great female superhero that really takes care of herself!
This slot features twenty paylines and has a big jackpot to go with it. You can hit the big jackpot and collect over 250,000$, but only if you have all lines activated with the maximum bet. It can be quite spendy but when you hit the big one, you'll probably find that it's worth it. The music is really upbeat and catchy, and it kept us company through at least a good hour of play.
You get scatters and wilds, along with plenty of free spins.  There's even a weapons bonus that you have to see for yourself!
5. X-Men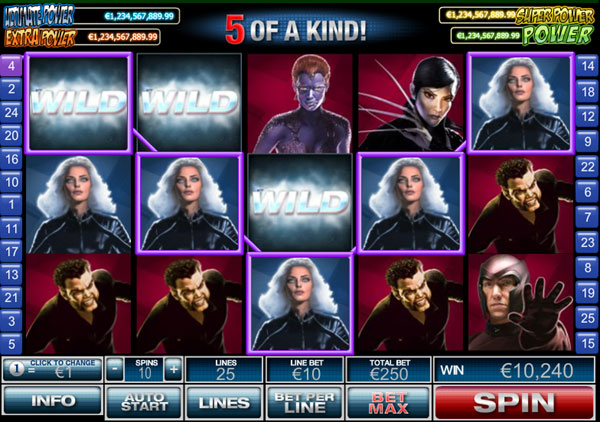 Is twenty-five paylines enough for you? When it comes to X-Men, we hope that you'll say yes! There's a lot of action here and as you might expect, the graphics and sound meet up with most of your requirements. Don't think for a second that you can't play very well here.
The best feature of the game would have to be the progressive jackpots. The top prize is $500,000, and it's a tough one to get.
The mission in the slot game is to fight the evil Magneto and save common humans. Free spins and multipliers add to your credit balance very quickly, so try to stack them up as fast as possible. The auto-play feature lets you sit back and watch the show. Don't worry; if you hit a bonus round, the auto-spin feature knows to stop and let it play out before continuing again. This way you get the best of both worlds!
Overall, we were pretty satisfied when we played all of these slots. But you'll need to check them out for yourself and see how well you like them. In most cases, you can find these slots for fun online, but if you want to win real money you have to go to an online casino.